Handcrafted leather goods are prominent all over the world for their ingenious up to date carvings. The minutely designed handcrafts by the artisans show the tradition and richness of Indian culture, which has been followed since thousands of years. Gifts are a symbol of affection and good memories, but over and above, if these gifts are relevant and useful, the person remembers it forever. Rather than gifting showpieces, it is always an excellent option to give useful and handicraft leather gifts to everyone. You can always feel rich using essentials made of leather and thus adore the art and charm of perfection.
There are many gifting websites, but Thar Artefacts stands out in all. It is a website that sells impressive pieces of handcrafted leather gifts for men and women. They sell their products in North America, Europe, Australia, New Zealand, Asia Pacific, Latin America & the Caribbean, North Africa, and the Middle East.
Handcrafted leather gifts are always useful and long-lasting rather than other materials. Leather bags and journals are made up of pure leather thus the original scars and callus make it more expensive and eye-catchy. They are incredibly sturdy. The leather goods makers keep it as plain as possible. They polish it with the help of natural oil which has no chemicals or waxes in order to maintain the healthy lifetime of the product.
WickedCityArt is the best website to buy leather gifts because of free delivery and discount benefits.
Handcrafted Leather Gifts for Men & Women That Are Beyond Cliche:
WickedCityArt sells personalized handmade journals made up of 100% genuine Buffalo and Goat Hide. If you have written something in it and try to erase it, it will also fade away! Isn't that great? They sell unique and finely crafted journals; no two journals are the same in shade, size, and color. The prices vary from $27 to $50 after applying a 50% discount. All of them have a minute and intrinsic designs carved on it.
These journals are tanned naturally with a type of special oil, so if you want your own design on it, just scratch or fold the leather as per your wish. Interesting right? There are 240 off-white-colored pages in every journal. The pages are made up of recycled cotton, which is acid and environment friendly.
The antiquated leather used here has a fantastic smell. Use this handcrafted journal, scribble, write with your favorite pen or pencil in all the possible ways you can – travel diary, sketchbook, scrapbook, food planner, and experiments journal. The charming rustic design is what adds beauty to the journal actually. Gift it to someone who loves writing and he/she will love it.
Etsy also sells five types of handcrafted leather bags to its international buyers giving them marvelous choices during selection. All the bags contain superior quality brass polished buckles studded. The bags are made of 100% genuine Buffalo and Goat leather along with velvet/polyester lining without using any chemicals to give a rich, antique, and unique look. The prices of these bags range from $60 to $110 after applying a 50% discount.
Handcrafted leather bags give a semi – formal appearance in public. You can definitely use it at college or even at parties for a trendy look. The rustic and attractive look of the bags attracts more customers. Rustic and dark brown shades are available in these bags. They have been made with different pocket sizes.
The zips and handles are strong enough that they won't break easily. The bags are designed for both – men and women. Etsy owner- Ms. Sakina is also ready to personalize your bag with your laser printed initials/quotes or logo of your own choice. So what are you waiting for? Go to the website, order your favorite bag and gift it to your loved ones.
This is the perfect padded leather bag for all the travel addicts. They can carry their DSLRs in this leather bag having 2 pockets along with a handle and a belt to carry it easily during travelling anywhere.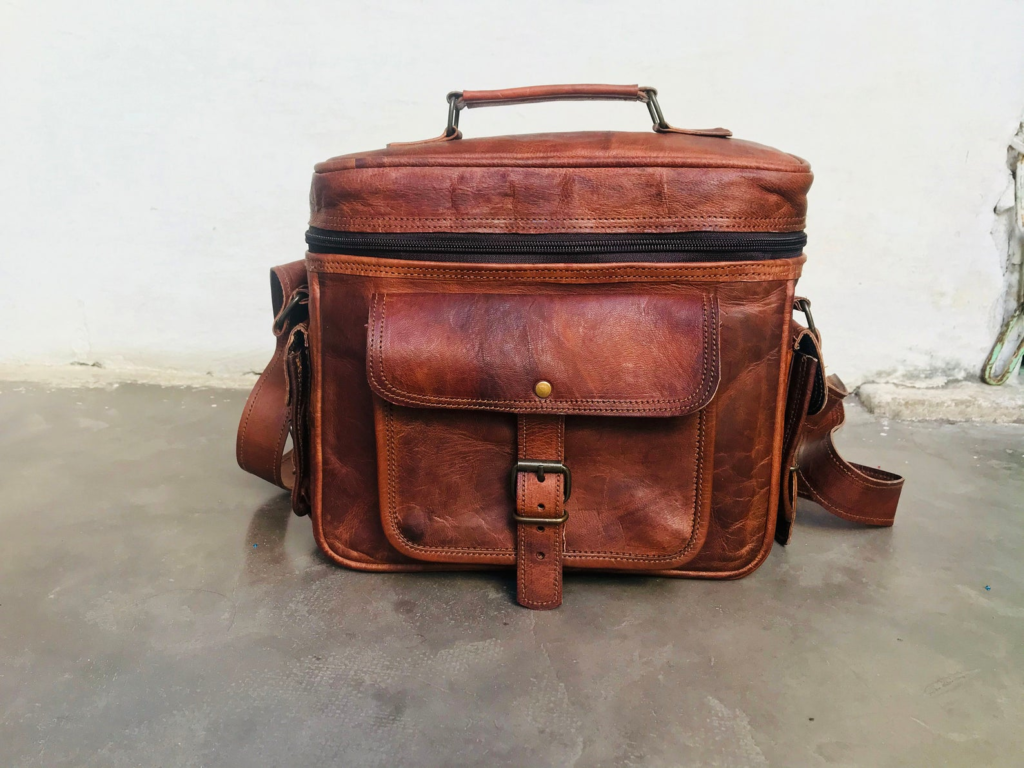 This is the perfect leather rucksack for all those who are out on an adventurous travel or hiking experience. This rucksack is durable and has 7 to 8 pockets to assemble all the necessary items needed for the trip. It's available in dark brown and light brown colours.
This is the perfect cross body leather bag used for carrying mini laptops or travel items. It has a thick leather belt so that you can carry on your shoulder and walk freely. It has 5 pockets to keep different things.
This is the perfect leather duffel bag to keep your gym essentials for your health and hygiene. You can also use it for storing essentials if you're planning a weekend getaway with your loved ones! It has 1 front pocket and 2 side pockets.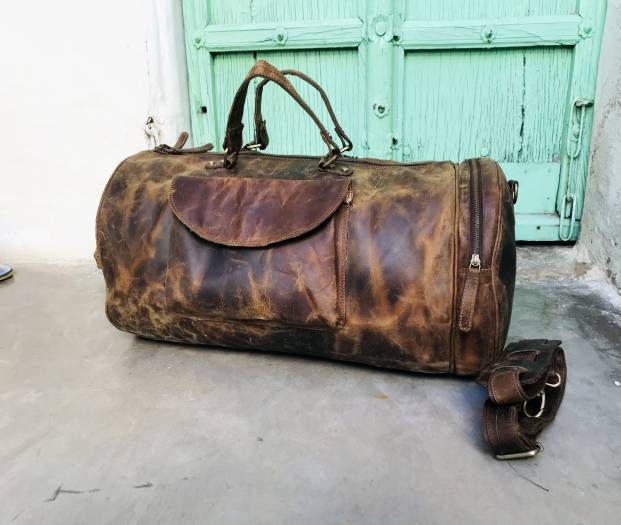 This is the perfect leather purse for women with 2 front pockets. It has a nicely shaped belt in front. All the females can use it to keep their everyday essentials – mobile phone, money, handkerchief and so on.
In a nutshell, WickedCityArt is the go-to destination if you really want to buy useful and long lasting handcrafted leather gifts for men and women on their special occasions. Leather journals and bags are useful in a number of ways to all of us.
Handcrafted leather gifts never go out of fashion as the designs used while carving always keep on changing. Usually leather items give a rich look when we carry them along with us. So, to all you leather lovers out there, do have a look at all the leather journals and bags on WickedCityArt and buy your favourite ones today itself!!